Bees, honey, yummy tea, coffee and pastries? Yes please! This project was to create branding for a food-truck. We could go in any direction we wanted, and could use any kind of food or beverage. I chose to focus on creating a food truck that uses natural local products, and is ecologically friendly. By taking out plastic to-go containers and providing bamboo straws and ceramic cups- Bee Eco focuses on a happier environment while still delivering delicious food.  
For the colors I wanted to focus on being warm and inviting. So I went with red and creams, with a dark gray for contrast. 
Above are some of the different types of packaging that would be used instead of plastic. Ceramic cups and metal straws would be available for purchase. Customers would also be enticed to bring their own cups by a dollar off deal. 
These "illustrations" were done by using commercial free images and editing them first in photoshop, and then in illustrator. 
For the logo I focused on combining both an illustrative style, and a geometric font. 
The final logo and logo mark work together to tie the typefaces and illustrations together. 
This is the view of the food truck being open. In the inside of the truck, you can see the patterned wallpaper. The outside of the truck is also decorated with the same illustrations. 
When the window is closed, the logo is seen with a pattern that repeats through several other elements like the merchandise. 
The opposite side of the food truck is simpler. It doesn't have the wooden side or window. Instead there is a garden of flowers growing up from the bottom.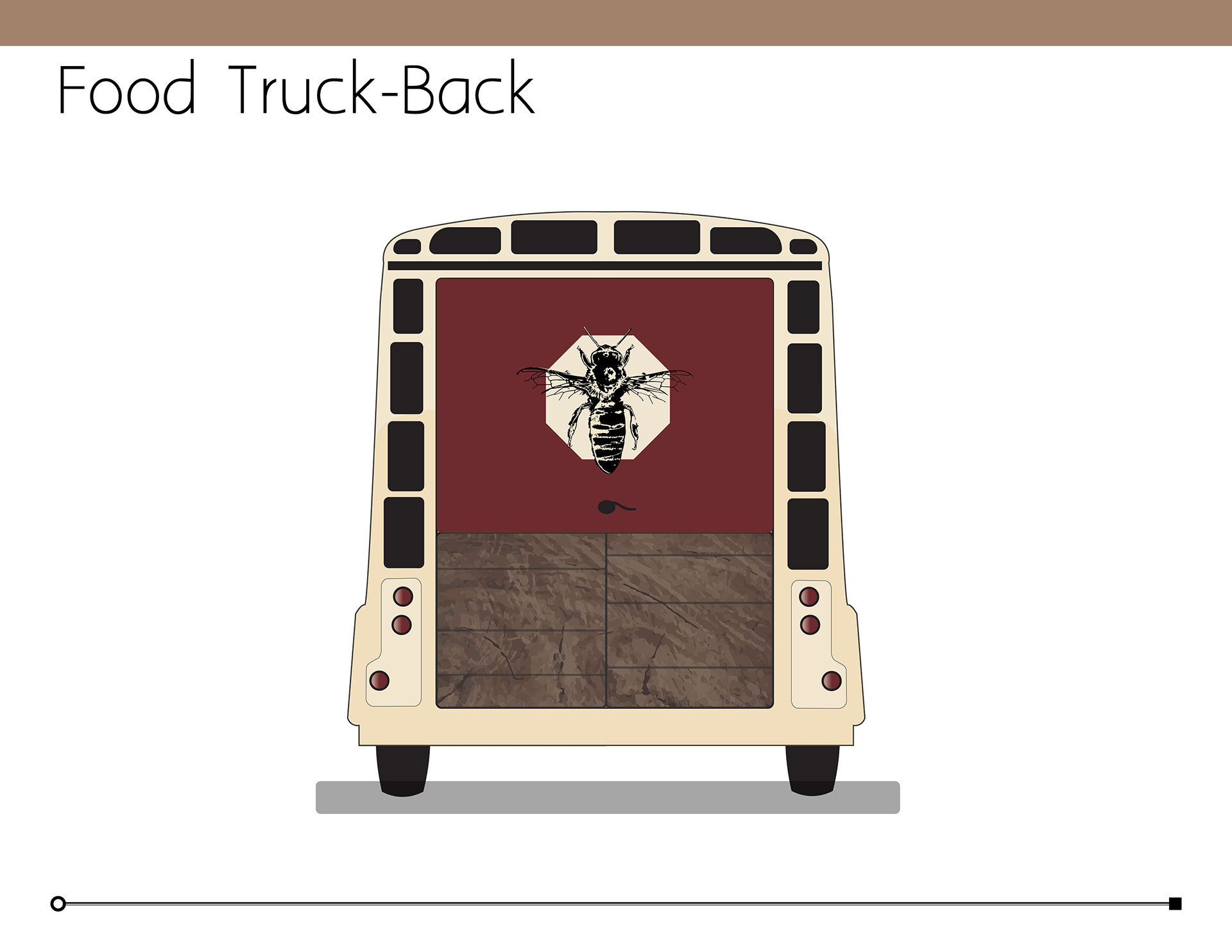 The menu is playful with bees and flowers decorating it. The colors are cool, and the text easy to read. It ties in the geometric shapes with the more organic elements of the illustrations. The bee trail helps to lead the viewers eye around the piece. 
These are some mockups created to show what the packaging, uniforms, and merchandise would look like.